The Novel
Welcome to The Fenland Spell, my second novel in the Father Eadred series. The book is available from (add closer to release). As with Murder at Elmstow Minster, it blends historical fiction with murder mystery, and is set in the Fens of eastern England in Anglo-Saxon times.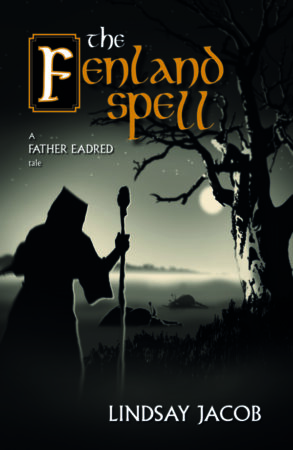 It is the year 832, and a torrent of crime is sweeping through the Kingdom of the East Angles. The cattle upon which folk depend for milk, meat and muscle are being slaughtered in droves by unseen killers and left to the wolves. Theft can be understood, but this wanton destruction of the kingdom's lifeblood is unnerving rich and poor alike.
The new ealdorman persuades two of the most powerful families in the kingdom to end an age-old feud and unite, through marriage, against the unseen foe. The pact is precarious and would have many enemies, so it is organised in secret. The bishop despatches a young, inexperienced priest, Father Eadred, to conduct the wedding ceremony. His decision will expose Eadred to terrible risks.
Flooding rains leach the bodies of murder victims from the earth. More murders take place. Eadred is drawn into uncovering the mind and the purpose behind the wave of death and destruction. He faces dangers in the world of men and from the spirit realm, but brings the conflict to a head.
But has Eadred found all of the culprits?
About Me!
I was born in Cambridge, England, and lived in a charming village some eight miles from the city. I attended the Cambridge Grammar School for Boys before migrating to Australia when I was twenty, and subsequently attended Sydney University. I am a frequent visitor to the UK, especially East Anglia, where my novels are set. On each visit I undertake some more research for my novels, and an old school friend and I have a day of 'church-crawling', especially churches with significant Anglo-Saxon features.
I was fortunate that fairly early in my career I became private secretary to a minister in the Australian Government, and this started many years of professional writing, especially speech-writing for senior figures across the spectrum of public and private life. I gained a reputation as a creative thinker and persuasive writer. Although this work often involved imagining and writing about the future, my dream was to give life to the past. I started writing fiction as a hobby but only started publishing once I had retired from full-time work. Speech-writing has taught me a lot about the disciplines of writing but especially that to be successful at the task, one has to put oneself in the shoes of your characters and readers.
The Father Eadred novels are set in the pre-Conquest Anglo-Saxon period of my birth country. It is a period I love: full of mystery, of belligerent kingdoms, the scourge of the Vikings, when England was created, and when Christianity and 'paganism' struggled for souls. I have spent decades reading about Anglo-Saxon life, culture and beliefs, and visiting what remains of their material culture. My understanding of Anglo-Saxon history is acknowledged:
'Lindsay Jacob's research into the Anglo-Saxon period is intelligent and thorough. His understanding of the age – its cultural mores, its sensibilities and its beliefs – informs his writing.' Annie Whitehead, historian, award-winning historical novelist and member of the Royal Historical Society
As I wander through Anglo-Saxon churches and minsters, the remains of their settlements and burial sites, and along their earthen defences, I find myself imagining that the dead are tapping at the soles of my feet, asking that I remember how they lived, what they believed, and how they died. And then I go and write!
Reviews