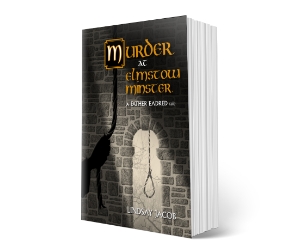 'A rollicking and truculent fictional journey to the edges of early medieval England when Christian righteousness was still struggling to extinguish the last embers of paganism, Murder at Elmstow is a darkly violent and action-packed whodunit' NetGalley Review Five Stars
What I'd like to do in this site is to introduce Father Eadred and his times in East Anglia – a mix of fact and fiction. Eadred is the lead character in my new historical murder mystery novel, Murder at Elmstow Minster.
The premise of Murder at Elmstow Minster is wonderful – a Brother Cadfael for the pre-Conquest period. Annie Whitehead, award-winning historical novelist and member of the Royal Historical Society
Murder Mystery Novel
I would ask readers of this murder mystery novel to be willing to plunge themselves into the Anglo-Saxon world and its beliefs – to assume the existence of the spirit world, even if you do not believe it. The Anglo-Saxons were a deeply spiritual people. If I lived some time in the seventh to ninth centuries and beyond, I would expect to have many encounters with spiritual beings and otherworld creatures, benign and malevolent. Various deities, ancestors, ghosts, witches, giants, dwarves, elves, animal spirits, the spirits of trees, forests and rivers, shapeshifters, monsters, dragons, and many more could be part of my world. They were joined by the Holy Trinity, angels, saints and demons – and for many generations one could believe in all of these spiritual beings with minimal risk of heavy-duty reprimand.
'I found this a really interesting read, as it's different in both structure and tone than most (historical) mysteries I read.' NetGalley Review
At first sight, Eadred is a rather solitary young man from a humble family with no rank, wealth or particular skill; a strong attachment to routines and no great worldly expectations. He had hoped to become a monk, which would have suited his reflective temperament. He expected to go through life without straying much from a well-worn path but his dream of stability and contemplation was not to be.
His vexed bishop told him that he had no need for more monks who wanted to live an ordered, cloistered life behind the minster's walls. Priests were needed. Men who would venture into the villages and farms to care for the spiritual needs of the people. This not only meant to baptize, marry and bury folk but to try to dissuade them from having sex outside of marriage. It meant trying to stop them from attacking each other or stealing. It meant trying to correct their view that there were good spirits living in the hills and rivers, or that their ancestors could still be contacted to help them with everyday problems. It involved teaching them the difference between good and evil. Not once was it mentioned that he would also be called upon to become a murder mystery sleuth.
'I Highly Recommend this book to everyone who loves a good murder mystery. It is a great piece of historical fiction' NetGalley Review
Though Eadred found this all very disturbing and it led to a strong friendship with red wine and torment at his own moral failings, it had one great benefit – he began to learn about the darker side of life. This fed an instinctive quality he discovered in himself – he had an inquiring, imaginative mind when it came to unraveling the worst of crimes. Though he felt happily constrained by the dogmas of the Church, murder and its detection allowed his mind to wander freely along all manner of paths that would be closed to a conventional man of the Church. The struggle within Eadred, between his yearning for a contemplative life and his priestly duty to confront the worst of worldly sins, birthed a talent for solving murders.
But Eadred was also seeking redemption for he once made a fateful mistake.
'Eadred, the winsome but still inexperienced father, finds himself upon his arrival totally overwhelmed by the political, religious and murderous shenanigans engulfing the rudderless congregation' NetGalley Review
In an inspired moment, he had understood that a young woman found guilty of murdering her husband, had to be innocent. He rushed to seek out a court official to explain the string of his thoughts. There was a condescending smile. The correct procedure had been followed, he was told, and a decision taken; his only task now was to pray for the girl. The priest shook his head, continuing to argue and came face-to-face with a world that terrified him.
Cowed by the aggression unleashed by the official, he retreated to the protection of the shadows – and a young life was throttled slowly.
Eadred, the Anglo-Saxon priest, changed that day.
Murder at Elmstow Minster
Murder at Elmstow Minster – the Blurb
It is the 830s; a time of warring Anglo Saxons kingdoms, the conflict between Christianity and paganism, and outbursts of fear of divine retribution. Elmstow Minster – a community of nuns in the Kingdom of the East Angles – has been recently established to atone for the execution of a young prince. The minster is torn into two camps – pious nuns and those who have no intention of giving up their worldly ways. These ungodly women are supported by powerful donors, who treat Elmstow as an aristocratic whoring nest. The abbess of Elmstow is humiliated by the influence wielded over her minster by these rich patrons and plots revenge. Two naked bodies are discovered, hanged together.
A young, introspective priest, Father Eadred, is sent to Elmstow to spy on the declining standards and against his wishes becomes entangled in this mysterious double murder and the task of uncovering the guilty. He challenges the traditional approach of using an ordeal of hot iron to identify the culprits. Instead, he has the novel idea of exploring the evidence. He faces significant opposition, including an attempt on his life. Eadred is befriended by a hermit monk who becomes the only person with whom he can talk about his detection.
Other murders take place. Eadred begins unravelling this murder mystery by realising the truth of the two main murders and sets a trap. Everything is thrown into disarray when a neighboring kingdom takes advantage of the upheaval to attack the minster. Some of the nuns are captured and a rescue mission has dire consequences. When all murders have apparently been solved and rough justice meted out, Eadred realises that one remains and the identity of the culprit dismays him.
'A gripping and authentic medieval detective story' NetGalley Review
**********************************************************************
I have studied the period of Anglo Saxons closely for many years and have drawn on my understanding in this novel.
Lindsay Jacob's research into the Anglo-Saxon period is intelligent and thorough. His understanding of the age – its cultural mores, its sensibilities and its beliefs – informs his writing. Annie Whitehead, award-winning historical novelist and member of the Royal Historical Society
Anglo Saxon Murder Mysteries by Lindsay Jacob
This is my second historical murder mystery set in the Anglo-Saxon period. The first, Under Lynden Church, was set both in present-day England and the past. More details on the story are included in a separate page on this site. To buy the book, please click here.