The Novel
Welcome to The Fenland Spell, my second novel in the Father Eadred series. The book has recently been released and is available from Troubador and Amazon and all good booksellers. As with Murder at Elmstow Minster, it blends historical fiction with murder mystery, and is set in the Fens of eastern England in Anglo-Saxon times.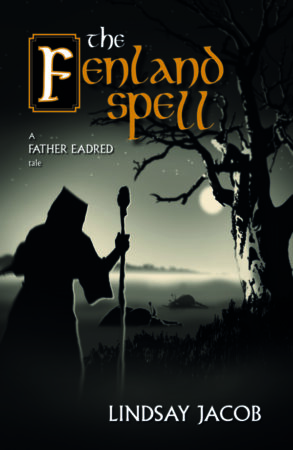 It is the year 832, and a torrent of crime is sweeping through the Kingdom of the East Angles. The cattle upon which folk depend for milk, meat and muscle are being slaughtered in droves by unseen killers and left to the wolves. Theft can be understood, but this wanton destruction of the kingdom's lifeblood is unnerving rich and poor alike.
The new ealdorman persuades two of the most powerful families in the kingdom to end an age-old feud and unite, through marriage, against the unseen foe. The pact is precarious and would have many enemies, so it is organised in secret. The bishop despatches a young, inexperienced priest, Father Eadred, to conduct the wedding ceremony. His decision will expose Eadred to terrible risks.
Flooding rains leach the bodies of murder victims from the earth. More murders take place. Eadred is drawn into uncovering the mind and the purpose behind the wave of death and destruction. He faces dangers in the world of men and from the spirit realm, but brings the conflict to a head.
But has Eadred found all of the culprits?
About Me!
I was born in Cambridge, England, and lived in a charming village some eight miles from the city. I attended the Cambridge Grammar School for Boys before migrating to Australia when I was twenty, and subsequently attended Sydney University. I am a frequent visitor to the UK, especially East Anglia, where my novels are set. On each visit I undertake some more research for my novels, and an old school friend and I have a day of 'church-crawling', especially churches with significant Anglo-Saxon features.
I was fortunate that fairly early in my career I became private secretary to a minister in the Australian Government, and this started many years of professional writing, especially speech-writing for senior figures across the spectrum of public and private life. I gained a reputation as a creative thinker and persuasive writer. Although this work often involved imagining and writing about the future, my dream was to give life to the past. I started writing fiction as a hobby but only started publishing once I had retired from full-time work. Speech-writing has taught me a lot about the disciplines of writing but especially that to be successful at the task, one has to put oneself in the shoes of your characters and readers.
The Father Eadred novels are set in the pre-Conquest Anglo-Saxon period of my birth country. It is a period I love: full of mystery, of belligerent kingdoms, the scourge of the Vikings, when England was created, and when Christianity and 'paganism' struggled for souls. I have spent decades reading about Anglo-Saxon life, culture and beliefs, and visiting what remains of their material culture. My understanding of Anglo-Saxon history is acknowledged:
'Lindsay Jacob's research into the Anglo-Saxon period is intelligent and thorough. His understanding of the age – its cultural mores, its sensibilities and its beliefs – informs his writing.' Annie Whitehead, historian, award-winning historical novelist and member of the Royal Historical Society
As I wander through Anglo-Saxon churches and minsters, the remains of their settlements and burial sites, and along their earthen defences, I find myself imagining that the dead are tapping at the soles of my feet, asking that I remember how they lived, what they believed, and how they died. And then I go and write!
Reviews
Jean Luc e, Librarian
Darkness has descended once again upon the mighty Kingdom of the East Angles where ruthless criminals are roaming the land destroying crops, cattle stealing and ruthlessly killing innocent men and women, a savage plague that sets neighbours against neighbours and threatens the land with chaos and mayhem….

Father Eadred is back in this gripping and truculent tale of murder, vengeance and martial violence, a Medieval fictional tapestry full of bloody twists and turns and blessed with a terrific cast of exquisitely drawn characters, an ensemble cast that performs a superbly choreographed "dance of death" at the borders of Christianity and Paganism….

An adrenaline-fueled ride brilliantly plotted and relentlessly entertaining that really deserves to be discovered and enjoyed without any moderation whatsoever!
I simply can't wait for the next instalment!

Many thanks to Matador and Netgalley for this terrific ARC! Five Stars
Cynthia Raleigh
The Fenland Spell, second in the Father Eadred series, was as engrossing as the first book (Murder at Elmstow Minster). The young priest, Eadred, is a character with such relatable human traits, not skipping easily through the requirements of his office or using his piety as a shield, but instead battling his own weaknesses. He has the natural tendency to dread things he is asked to do which conflict with his desire for a quiet, contemplative life within the protective walls of Snailwell Minster and the joy of working the earth in the fields. Eadred's abilities for critical thinking and mystery solving draw him into service more than he would like.
The Fenland Spell poses a murder that becomes increasingly dangerous to solve, especially given the Anglo-Saxon time period where travel is perilous and social status and politics are major hurdles. The presence of Brother Tatwine as Eadred's eccentric and capable assistant provides a relentless energy to the advancement of the story.
Author Lindsay Jacob employs his expansive knowledge of Anglo-Saxon England to create an atmospheric, history-rich setting fraught with the hazards of the time. Danger hides in many places and Father Eadred once again visits those places to solve the murders. Five Stars
Bernie C, Reviewer
MAGICAL MYSTERY MIND TOUR

Another enthralling story spell, by a master magician of storytelling, mixing murky marshes, murder and mystery, into succulent well flavoured solutions.

This sequel will have you spellbound, as we travel again with Father Eadred, on his new missions to new places, with a new variety of characters. These supplement the interesting cast, that we are starting to know well. The follow-on gives us equal enjoyment, to that of the first tale.

This the second of the Father Eadred tales is well paced and travels well, maintaining tension throughout the various locations and situations. This is a most rewarding read, especially for those of us, who enjoy the thrills and spills of an exhilarating who-dunnit, set in a fascinating historical period. Five Stars
Reviewer 968180
This well written book with great characters that are well developed and engaging and the storyline flows smoothly from beginning to the end. Four Stars
Judy Dawson
It's so satisfying to pick up this whodunnit mystery, knowing that I'll be engaged and intrigued straight away. I'm so glad a second Father Eadred Tale has appeared so soon after the first. Page 1, and I'm right back into the Dark Ages. The author manages to bring to this period to life by weaving its mix of superstition, religion and cultural norms with relatable characters, wonderfully descriptive locations and clever, clever plot twists. This tale was shorter and faster-paced, and had me gripped. A quick, intriguing, enjoyable read, that is educational at the same time.
There's so little fiction set in the Dark Ages, the Father Eadred tales entertain us something new. Four Stars
Stephen Dawson
This is the second book of Lindsay Jacob's Father Eadred Tale series. It is a mystery set in kind-of historical times. By "kind-of historical", I mean that its set during a period and in a land about which not much is known. It's in the early to mid 800s in the Kingdom of East Anglia, well before English unification. The Kingdom is small, and its very existence somewhat precarious, thanks to the occasional predations from the much larger Kingdom of Mercia to its west. It is a Christian nation at a time when Christianity was also politically and commercially powerful, but had not yet fully supplanted worship of the old pagan gods.
Father Eadred is a young priest from an undistinguished family. In those days your status was in large part determined by your family, but could also be raised by the patronage of other high status individuals. Eadred has been granted a gift of being able to see more deeply into mysterious crimes. After being sent to perform a wedding, he soon finds himself having to investigate a murder. And he has to do this while being careful not to upset the powerful people around him. There are twists galore as the story proceeds, and it's all entirely fascinating.
Some things I want to highlight. First, Lindsay Jacob presents this alien way of life in the way that it would have seemed to the people of the time: normal, expected, indeed ordained. Just as we look at our own world in the same way, mostly unaware of its weird inconsistencies and manifold injustices. So when the custom of those days was to determine the guilt of a charged person not by evidence, but by whether they could gather a dozen people prepared to swear to their good character, the strangeness for we moderns is stunning. Meanwhile, young Father Eadred is using evidence and logic to determine what has really happened. Presenting this could butt up against custom.
(While I suggested above that not much was known about the period, I should note that Lindsay is a student of the period and he knows as much as anybody.)
Another thing: Father Eadred has grown since the last book. He's less fearful, more self-directed, physically stronger, and even prepared to bet his life — as in, he'd be tortured to death if he got it wrong — that he's right.
This is an excellent read about people and a place which is simultaneously alien, but strangely familiar. Four Stars
Kelly Marie Purdy
I liked this book and would probably read more books featuring these characters. From the first chapter, I felt the writing had an eerie quality that I liked. I quickly took an interest in the characters and was drawn into the story.
I wonder if fans of Ellis Peters' Cadfael series would like this book, as it did remind me of one of those. Four Stars
Reviewer 463267
A historical mystery set in the 800s AD in East Anglia where feuding families are leaving the peasants on the edge of starvation and the landscape in ruins. Father Eadred is sent out to perform a secret marriage to unite two warring families and hopefully bring peace but corruption, murder, and evil abound. Will Father Eadred be able to ferret out the culprits and return justice and peace to this area before it destroys the kingdom?

It is well written and the atmosphere was so real you could almost touch it. Old pagan religions and Catholicism vie for the hearts of the people. Sometimes it is too wordy and a bit much of theology and philosophy but the characters are well developed and the plot is multilayered with more than just a mystery. How do you bring well-being to the hearts, spirits and bodies of parishioners when they beg for help but the priests can not stop the offenders only castigate them and have them do penance but if the parties have no wish to reform, the cries of the innocent find no mercy or justice. How do you offer succor to the peasants when the nobles do not perform their duties of having court to listen to the disputes but only abuse those under them?

Thanks to Netgalley and the publisher for an ARC in exchange for an honest opinion. Three Stars